The last weeks has been quite busy, more than I am used to. Especially this week, since I've been visiting a "high school" some kilometers away from where I live. Still not quite sure which kind of education I am going after, at the moment I am considering something graphical and creative, but everything is very confusing. Too many options!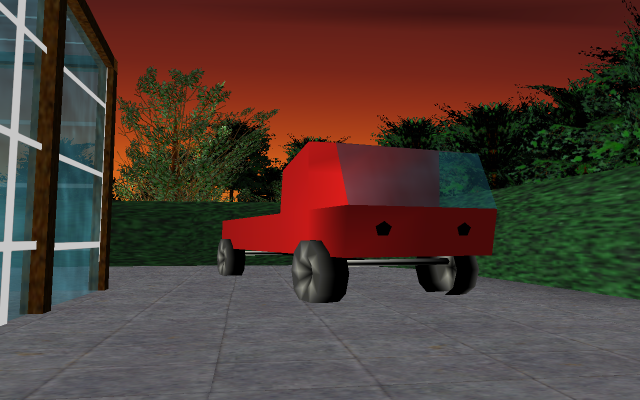 At the same time I am getting ideas, related to programs and tracks. Since I am soon finishing my illegal co-operation with 3ds max 8, I am only focusing at my last 2 max projects, when it comes to track making. My next release, RAGarden is soon finished; At the moment I am only fixing bugs and working on the MAKEITGOOD part. Some recent positive feedback also cheered me up to try finish the track within 2009. The picture to the right is an early screenshot of my not-so-beautiful pickup in-game I took some while ago.
Member of the month
Recently Killer Wheels released a track at his comm, a really nice addition to my collection. Thinking about it, he must be full of hope since he still continues to improve his website. I hope the activity will grow there, and the amount of members will rise. Right now there it's nice to be over there, not so many unnecessary posts from mindless members as elsewhere. KW is a nice person and fair when it comes to rating tracks. He'll be the member of the month for me. =)
Ad blocker interference detected!
Wikia is a free-to-use site that makes money from advertising. We have a modified experience for viewers using ad blockers

Wikia is not accessible if you've made further modifications. Remove the custom ad blocker rule(s) and the page will load as expected.