Folder Name
ship1
Soundtrack
FLIPPED.mp3
Length
742 metres
Difficulty/Cup
Hard/Gold
Unlock
Silver Cup
Challenge Time
00:55:000
Toytanic 1 is a stock track created by Acclaim Studios. Is the third track in Gold Cup and the ninth track in game. The track's name obviously is a play on the name of the british ship Titanic.
Toytanic 2 and 1 use the same cruise model and racing line. The only apparent difference is the weather and the start position. In Toytanic 1 the race starts on the first floor and the weather is sunny. The track also features a rocking effect which simulates the ocean waves.
Hazards/Obstacles
As its predecessor Toys in the Hood 2, Toytanic 1 is formed by several 90º narrow corners which frequently make the car crash into the walls. The track is fully plain in most part of areas, however it also contain ramps and elevations (characterized by a red ground), that combined with the narrow corners becomes one of the hazards presents on the ship. Also, as well as Museum 2, there are false entries which confuse the player. Deck Chairs, lifebuoys and chimneys are part of obstacles list.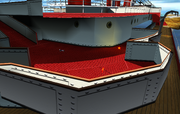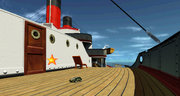 Global Pulse Location
The Global Pulse starts with the player because of a bug in the game. Actually it's a few meters after the captain's cabin, on the down ramp to the main floor. The bug was fortunately corrected in Re-Volt 1.2.
Practice Star Location
The Practice Star is located a few meters before the finish line, floating in the middle of the path, where the player needs to use the red ramp to pick it up.
Tips
Cut corners as much as possible, mainly after the pool and at the captain's cabin.
There's two jumps on this track: The pool ramp and the lifebuoy arc ramp. Is not recommended to use them since they're risky jumps, and can make the player lose time if it fails.
Throw Clone Pick Ups and Oil Slicks on the corners. This will make the cars crash into the walls. Two good points are the captain's cabin and at the last track corner (ship deck).
Throw Ball Bearings, Clone Pick Ups and Oil Slick on narrow sections.
Throw Clone Pick Ups front to the ship edges, to launch opponents off the ship.
Related Images / Videos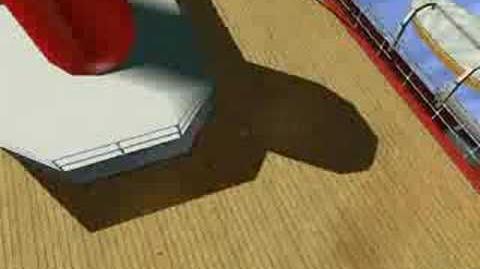 See Also
Ad blocker interference detected!
Wikia is a free-to-use site that makes money from advertising. We have a modified experience for viewers using ad blockers

Wikia is not accessible if you've made further modifications. Remove the custom ad blocker rule(s) and the page will load as expected.