Toys in the Hood 2 (also known as Nhood2) is a Re-Volt stock track created by Acclaim Studios. Is the first track in Gold Cup and the eighth track in game.
This level feautures a more complex Neighbourhood: It has realistic houses, gardens and water spinner showers as land obstacles, house items such as doors, skateboards, kitchen chairs, a garden river with more routes and bridges, and many corners to take advantage and to crash into.
Hazards/Obstacles
Different of the original Toys in the Hood from Bronze Cup, which is limited only in a wide street and a small construction side, this track extends its racing line into the houses' backyards, featuring slippery grass and a lot of obstacles. The most part of alleys between the gardens are formed by corners which makes the cars crash every time. The last garden contains a small stream and bridges, and is considered the most difficult point of this track. The obstacles consist of skateboards, trash cans, gazebo ramps and spinner showers.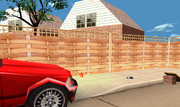 Global Pulse Location
The Global Pulse is located on the left sidewalk near to the start line, beide the red parked car. this star is more accessible in reversed mode.
Practice Star Location
After the start line, go left at the crossroad. The star is located on the top of a trash can where the player needs to use the wooden ramp to get it.
Tips
Cut corners as much as possible (for instance, the first corners inside the house).
Throw Oil Slick and Clone Pick Ups at the corners to make the opponents crash into it.
Make the possible to not hit in the corners. Plan open maneuvers to maintain speed and stability.
Throw Ball Bearings at the narrow alleys.
At certain points, use the slippery of the grass to your advantage to make curves.
Do not use any kind of ramp in this track, unless it is part of racing line or necessary.
Throw Oil Slick, Clone Pick Ups and Ball Bearings at narrow sections. The first house's door is a good point for it.
At the first backyard, turn around the gazebo by the left instead of use the ramps.
At the last backyard (with the bridges), drive the car under the bridge, then go through the other plank placed over the stream.
Triva
In Developer Version, this track is described as Mo Toys in the Hood inside the .inf file, which was supposed to be the original name.
See Also
Ad blocker interference detected!
Wikia is a free-to-use site that makes money from advertising. We have a modified experience for viewers using ad blockers

Wikia is not accessible if you've made further modifications. Remove the custom ad blocker rule(s) and the page will load as expected.