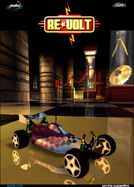 I've been doing some archaeological digs and found some interesting stuff. This is a little gallery page for the design odds and sods that were knocked up during the production phase of Re-Volt circa 1997 -1999, stuff that's been haunting my dusty hard drives - they might bring some light amusement and maybe some insight to the original design choices, and the ideas that were bouncing around the team at the time. Hopefully some of the other guys have got some stuff, and they can add to the pile. Enjoy some Re-Volt history, - Thank you to the whole RV community for not turning the life-support machine off :)
Ad blocker interference detected!
Wikia is a free-to-use site that makes money from advertising. We have a modified experience for viewers using ad blockers

Wikia is not accessible if you've made further modifications. Remove the custom ad blocker rule(s) and the page will load as expected.