TexAnim YUI (shortened as TexYUI, codenamed as The YUI project) is a texture animation editor for Re-Volt. just like its name hints: TEXture ANIMation Yet another User Interface, it provides a new (graphical) user interface to edit, add and remove texture animation for Re-Volt.
Background and story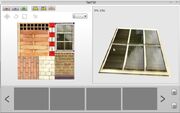 After being unpleased with
W_Console
,
Kfalcon
decided to make a new tool easy to use and can be used by anyone for
Texture animation
. Not so long, a first version of Texture animation appeared on the internet.
However, as no much interest was shown, the author decided to drop the project.
Features
a decent graphic interface 
import/export .framelist (W_Console)
manage current texture animations inside track
export track animation (with quadrify and other options)
extended frames support: custom delay, linear translation and linear rotation
smooth start/finish and smooth start and finish (dropped)
See also
External links
Ad blocker interference detected!
Wikia is a free-to-use site that makes money from advertising. We have a modified experience for viewers using ad blockers

Wikia is not accessible if you've made further modifications. Remove the custom ad blocker rule(s) and the page will load as expected.