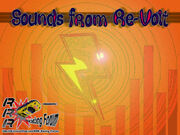 RRR:Sounds From Re-Volt (R3-SFR) was a RRR Racing Forum product. It has the music collected from RRR soundtrack contests excluding Kfalcon and Adamodell's music. The cover was designed by both of Gaming4JC and RST.
Included songs
Phoenix R3 Song (by Urnemanden) - 03:30
Chemical Mixdown (by Hilaire9) - 02:57
SilverStream (by RST) - 01:22
Re-Volt Revolution (by Nuclearhythmics) - 02:30
Turning On The Radio (by Urnemanden) - 02:43
The Sakura Mix (by Gaming4JC) - 04:00
Star Hop Techno (by Gaming4JC) - 02:56
Terramax (by RST) - 01:08
JungleVolt (by Urnemanden) - 03:33
Ever Seen the sky (by RST) - 01:31
External Links
Ad blocker interference detected!
Wikia is a free-to-use site that makes money from advertising. We have a modified experience for viewers using ad blockers

Wikia is not accessible if you've made further modifications. Remove the custom ad blocker rule(s) and the page will load as expected.