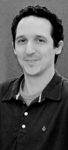 Simon Harrison is an English Ex-Acclaim Employee and 3d Modeler who worked for Acclaim London, Probe Entertainment for 6yrs. He also worked at THQ over the next few years and is currently working as a lecturer in the UCLAN (The University of Central Lancashire) in England.
In Re-Volt's credits he is listed as a Track Modeler. Besides of sharing "Re-Volt idea coming up" with Paul Phippen[1]
References
↑

Email from Simon Harrison: I came up with the original idea along with Paul Phippen
External Links
Ad blocker interference detected!
Wikia is a free-to-use site that makes money from advertising. We have a modified experience for viewers using ad blockers

Wikia is not accessible if you've made further modifications. Remove the custom ad blocker rule(s) and the page will load as expected.