Rooftops is a track included only in the Dreamcast, Android, iOS, and SmartTV version of Re-Volt. It takes the place of Toy World 1 in the silver cup, and Toy World 1 mirrored in gold cup.
This track takes place in an urban city where the R/C car jumps from building to building in order to complete the laps. The iOS/SmartTV versions also have slightly altered graphics.
The public release version has been altered from the original version which was set at daylight. Due to hardware restrictions from that time, it has been decided to set the track at night to achieve a realistically low drawing distance. The first version is found in the source code of the Canned Version of the PC Version of Re-Volt and had a name of Fiddlers on the Roof (1998), made by main designers of game Paul Phippen and Simon Harrison. The actual version (1999/2000) received improvements by Jim Vale[1]. For more information about early development tracks, check the main article "Canned Tracks".
Hazards\Obstacles
The most part of obstacles on this track are formed by ramps and elevations on the roofs (ceiling windows for instance). Are also present in the scenario some cans of paint, stairs and spotlights at the heliport. In addition, the alleys between buildings may hinder the player doing it loses a lot of time to recover the race, mainly because of some cars is not provided of good acceleration to across the alleys.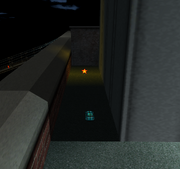 Global Pulse Location
In reversed mode, there is a clear vision of the star inside a small alley after the first steel ramp.
Practice Star Location
To take the Practice Star the player needs to go in reversed mode, then reach a relevant speed to jump beside the steel ramp. This part requires some skill because the car needs to stop on the top of the short wall, and it is probable to fall in the first tries. When done, drive the car through the wall until get the end of the line, where the star is located.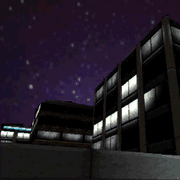 Tips
Choose cars with good acceleration and speed, although any car from the game can across the jumps with no trouble.
Throw Clone Pick Ups, Ball Bearings and Oil Slick few meters before the ramps.
Throw Clone Pick Ups and Oil Slick at narrow ramps.
Cut corners as much as possible; the heliport area is a good point for it.
Download links
References
See Also
Ad blocker interference detected!
Wikia is a free-to-use site that makes money from advertising. We have a modified experience for viewers using ad blockers

Wikia is not accessible if you've made further modifications. Remove the custom ad blocker rule(s) and the page will load as expected.