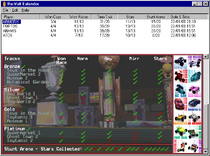 Re-Volt Xtender (Re-VoltX) is an open source C++ application created by Frédéric Sénégas in 2000. This program organizes the profiles that you are running in Re-Volt, allowing you to unlock and lock all areas of the game, and also run re-volt with command line launch arguments.
Website
See Also
Ad blocker interference detected!
Wikia is a free-to-use site that makes money from advertising. We have a modified experience for viewers using ad blockers

Wikia is not accessible if you've made further modifications. Remove the custom ad blocker rule(s) and the page will load as expected.