In the News
August 27, 2018
Kipy released a custom car based on the gallery image Lib11c. It's called Zaffer and can be downloaded at Re-Volt Zone.
August 25, 2018
Tavisco released a companion app for the RVGL Android port called RVGL Butler, which can be used to automatically install Re-Volt I/O packs, easily install custom content from the web, show cars and levels installed, show RVGL update status, etc. Download it from here.
August 21, 2018
The official version of the track Ranch finally has been released by Marv and r6te, a track with outstanding graphics that shows how far someone can go with the game. Download at the Re-Volt Hideout topic.
July 31, 2018
RVGL 18.0731a has been released. This update brings Discord Rich Presence Integration and better reversed mode support for tracks. More info at the forum topic.
July 17, 2018
TrixedXD and PaintHeart released a custom car based on the car seen in the Re-Volt promo video from the machines CD (more info at ZEDZED/DONNIE article). The car is called ZedZed and can be downloaded at Re-Volt Zone.
July 16, 2018
Kipy and Mladen007 released a custom car based on the oldest version found of NY 54 (check the file LTyBFCu.jpg). The car has been called Loaded Chique as the same of how NY 54 was called before.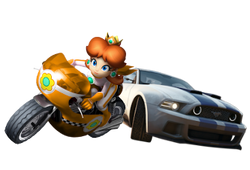 Vehicular Games
Go to these sites for info or for help with your own wiki!
Asphalt • Burnout • Choro Q • The Crew • Driver • F-Zero • Forza Motorsport • Gran Turismo • Mario Kart • MotorStorm • Need for Speed • Rocket League • Twisted Metal
Want your community included? See how!
See all of our Vehicular gaming wikis!