Screenshot of the Moment
RVGL running on OpenPandora.
In the News
July 19th, 2017
Re-Volt 2: Multiplayer terminated its service at July 3rd, and is no longer available for download. WeGo Interactive announced its end at their Re-Volt Facebook page at June 26th. No reasons about the service termination were provided. Furthermore, their other games Re-Volt 2 and Re-Volt 3 were suspended today, according to WeGo Interactive, due to "a problem with the game server".
July 8th, 2017
Two amazing tracks were released today: Skating Toys by Zorbah and Overground by Saffron.
July 3th, 2017
Re-Volt Zone needs funding! Zach (the site's owner) is either looking for a way to fund the website or for someone to pass the website onto. Leave a comment at the original post if you have any idea to solve the problem. You can also use the donate button at the website's header to donate a certain amount of money via PayPal.
June 18th, 2017
Huki announced a new shader based rendering engine for RVGL. The first build was released today, and is open for testing. See the original post for more details.
As said by Huki, its "main intention is to support the Re-Make project", and "the secondary goal is to possibly have RVGL on platforms like iOS and Android, that are based on GLES 2+ (which is mostly a subset of GL Core and requires a shader version)" It's also expected to show higher throughput and better power efficiency on newer cards and devices.
June 12th, 2017
Re-Volt Zone got three masterpieces in the past week: Purity X, Clockwork Buggy and Gator-Raid.
May 04th, 2017
HabitatB (Marv's and Dummiesman's plugin for Blender) was announced at Our Re-Volt Pub and now have the major features needed for track making. Further plans are support for hulls, Edit Mode files, tracks' .inf file and cars' parameters.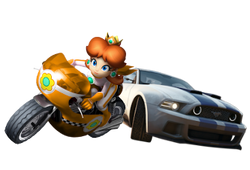 Vehicular Games
Go to these sites for info or for help with your own wiki!
Asphalt • Burnout • Choro Q • The Crew • F-Zero • Forza Motorsport • Gran Turismo • Mario Kart • Motorstorm • Need for Speed • Rocket League • Twisted Metal • Wipeout
Want your community included? See how!

Ad blocker interference detected!
Wikia is a free-to-use site that makes money from advertising. We have a modified experience for viewers using ad blockers

Wikia is not accessible if you've made further modifications. Remove the custom ad blocker rule(s) and the page will load as expected.