Introduction
Re-Volt is a radio control car racing video game created by Acclaim Studios London (formerly Probe Software) and firstly released by Acclaim Entertainment in July 1999. Although Acclaim went bankrupt in 2004, the game continued to be supported by fans over the years.
Re-Volt Wiki is a collaborative encyclopedia which is online since 2006. Our aim is to document and archive everything about this classic racing game. The wiki format allows anyone to create or edit any article, so we can all work together to create a comprehensive Re-Volt database.
Have a nice stay! Please visit the Wiki Activity page for staying tuned in the most recent changes and activity in the wiki.
Showcase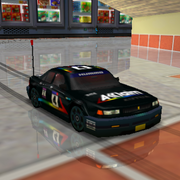 Humma is one of the many selectable standard cars available in Re-Volt. It is a Glow-powered car with a 4WD drivetrain, classified under the Pro rating. Running at 39 mph, Humma possesses well-rounded top speed, being on par with the popular Toyeca. It also boasts the standard weight of 2 kilograms, which is relatively the same as most of the cars in its rating. Its major highlight is the vehicle's acceleration. Clocking in at an exceptional coverage of 3.45 m/s², Humma remains as one of the fastest accelerating cars in the game, only falling behind by the visual counterpart, SNW 35. Its acceleration stat allows Humma to pull ahead of starting grids, which is crucial in avoiding all havoc possible. The high acceleration stat also proves beneficial in climbing steep inclines, losing minimal speed while conquering it with little time possible.
Where to start
How to help out
If you want to help but you're not sure where to start, try improving the various article stubs by adding content.
Another helpful activity would be to check the list of wanted pages for frequently linked-to articles that don't exist yet.
Adding images in articles that don't have images is another very helpful way to help out.
Can't find an article? Don't hesitate to create it! For that, just enter the article title in the box below:
Other Fan Projects and Websites
In the News
April 30th, 2018
As said by Paul Phippen, the entire series of the Space Station concept were posted at his homepage. It features four pictures that weren't present in the Facebook post, including a track map. Check it out!
April 25th, 2018
The RV Soundtrack Project has been started, a project that aims to replace the entire Re-Volt soundtrack by brand new songs with the same feels of the original. To join the project, read the Re-Volt Hideout post here.
April 20th, 2018
Paul Phippen has published at Re-Volt Live's Facebook group few concept paintings of a Space Station racing track that WeGo Interactive invited him to do for Re-Volt 3. According to him, he is going to post the entire series of the concepts at his homepage Mozchops.com. The space station concept wasn't used for some unknown reason, as well as other level designs that were offered but not taken to the concept stage, including new car designs. The post also featured a cover design sketch of Re-Volt 3. The original post can be found here.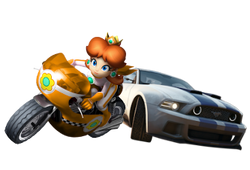 Vehicular Games
Go to these sites for info or for help with your own wiki!
Asphalt • Burnout • Choro Q • The Crew • Driver • F-Zero • Forza Motorsport • Gran Turismo • Mario Kart • MotorStorm • Need for Speed • Rocket League • Twisted Metal
Want your community included? See how!
See all of our Vehicular gaming wikis!