This is the homepage of Re-Volt the Wiki! You can help us by becoming a member and contributing to the database. We are going to document and archive everything about our favorite game by Probe Entertainment, Re-Volt!

Don't forget to see "About" page at Project:About.

To write a new article to the Wiki, enter the page title in the box below.
Popular Fan Sites
Featured Content
Recent Activity
March 30, 2017
March 29, 2017
Where to start
Not Sure what you're looking for?
If you are new to wikis, you may want to check out the help pages from the Fandom Community Central.
A list of all help pages of Re-Volt the Wiki can be found at Category:Help
Needed improvements in this wiki can be found at Category:Wikia_maintenance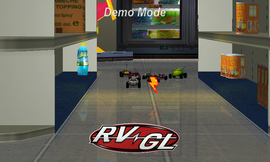 RVGL Latest Release
RVGL 17.0327a, released in March 28th, 2017.
March 7th, 2017
Re-Volt Zone activity had a raise up recently. 6 cars and 2 tracks were released. One of these tracks is an extreme called Medieval made by Instant and Mikrosx.
March 1st, 2017
Recently Re-Volt Zone had a great delivery of cars, being one the long awaited Naval Baron, made by twin brothers RV Pure and RV Passion. Check all of them at Re-Volt Zone's timeline.
Febuary 27th, 2017
Re-Volt I/O received a huge upgrade on its layout and a section for user-made cars and tracks is being developed. Go to Re-Volt I/O home page Also, DC.all released one more N64 track conversion at Re-Volt Live Forum: the Penny Racers' track Caves. Download link at the original post.
Febuary 16th, 2017
Re-Volt I/O has a new section available: the Learn page, which provides informations of how to make cars and tracks to the game. The tutorials are still under construction, but it already has a quite full guide about making tracks in Blender. Their online racing schedule is also being updated every week.
Other known events in the community websites are the Re-Volt Live's Weekly Pro Trials (Winter 2017 event) which is still running and is currently in the fourth week, DC.all releasing tracks converted from Nintendo 64 games (here), and a new lego released and an updated track in Re-Volt XTG (here).
Ad blocker interference detected!
Wikia is a free-to-use site that makes money from advertising. We have a modified experience for viewers using ad blockers

Wikia is not accessible if you've made further modifications. Remove the custom ad blocker rule(s) and the page will load as expected.