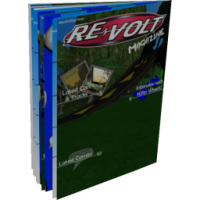 The Re-Volt Magazine is a magazine started by Urnemanden in February 2009. It has 6 sections where 3 of them is currently under construction, while the rest is pending.
Technical Details
The Re-Volt Magazine is planned to be at 300 dpi and in the end sent to the company discountprint.dk to be published. Urnemanden will then send a copy of the magazine to as many users as possible where all RVM Team Members will be the first who get the opportunity to get it.
The Re-Volt Magazine was planned from the start to be a published magazine. Therefore can Urnemnanden not tell if the magazine in the end will be published online or stay rare. Depending on the amount of money Urnemanden want to give to this project a minimum 10 copies of the magazines will be published.
The RVM Team
- Urnemanden (Main leader)
- MrT (RVMT leader)
- Piwi (RVMT)
- Catcarrier (RVMT)
- Hackmett (RVMT)
- RVPilot (Rating Concept)
- KayTheFalcon (Comic Designer)
External links
Ad blocker interference detected!
Wikia is a free-to-use site that makes money from advertising. We have a modified experience for viewers using ad blockers

Wikia is not accessible if you've made further modifications. Remove the custom ad blocker rule(s) and the page will load as expected.