Re-Volt Live
Re-Volt Live
Re-Volt Live
(RVL)
is an English forum created by
zipperrulez
with partnership of
miromiro
on
June 26th, 2009
in order to make the Re-Volt scene more a
live 
and it's currently one of the two active English Re-Volt forums.
The logo is made by Marv and recolored by zipperrulez. Although it's programmed that it changes its logo by season through an organized context, the default logo was set for all seasons.
This forum is fairly active, if not the most active English forum at the time. The forum maintains a partership with RVxtg and Re-Volt Frontend . It also has an official facebook page and an official youtube channel.
Features
Re-Volt Live accepts everyone. It's more oriented into fun, racing, offtopic and news unlike ORP which is more into technology and development.
Re-Volt Live has a great section for news, custom creations (tracks, cars, modifications, fan artwork, and PRM kits etc...).
It is also to note that it had a skin changer and reputation, like/dislike but later removed to improve performance since they caused the forum to lag.
What makes Re-Volt Live different from other invisionfree forums is besides the unique ambiance, it has other additions such as youtube tags, and your fairly spoiler, offtopic tag.

Re-Volt Live : YouTube
Re-Volt Live's YouTube account was founded by zipperrulez. It contains tutorial videos, as well as videos from Re-Volt championships and competitions. As of 1/6/2010 the tutorials are as follows (in no particular order):
Random car racing online
How to install custom cars and tracks
How to forward your router for use with RVHouse
How to run Re-Volt on Vista and Windows 7
Hotkeys & The basics of modeling in Maya
There are more videos about modeling in Maya, courtesy of Aftgambit007 a.k.a. Afty, coming soon.
Other videos include:
Re-Volt Live's NASCAR Cup
zipperrulez's Re-Volt Mod (Real RC Mod) Trailer
Re-Volt Live Lab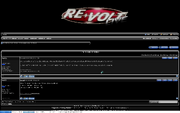 It's the official laboratory for Re-Volt Live administrated by miromiro, zipperrulez, urbanrocker and Kfalcon. It's the complete laboratory for testing everything before releasing it to RVL.
Re-Volt Live Lab has contributed to Re-Volt with a lot of features. Now it's inactive and it's rarely visited
Re-Volt Live: Members
Re-Volt Live has a large list of members that exceed thousand. Although only thirties are active divised into different ranks: 
Administrators ("Admins")
Global Moderators ("supermods")
Moderators ("moderators")
and 
Members
VIP
Retired moderators
In-Validating (People who still need to validate their email address)

The powered people are:
zipperrulez - Administrator
miromiro - Administrator
URV - Global Moderator
Saffron - Global Moderator
Skarma - Global Moderator
krisss - Moderator ("Artwork" and "Tools" Categories)
Cat - Moderator (Cars)
Dave-o-rama - Moderator (Tracks)
Halogaland - Moderator ("Work In Progress" Category)
Kajeuter - Moderator ("Online Racing" and "Time Records" Categories)
Balint12 - Moderator ("Time Records" Category)
External Links
Re-Volt Live's AI Nodes Tutorial
See Also