Re-Volt Live
Re-Volt Live was a special version of Re-Volt for Xbox Live. It was also the very first Live-enabled game for the Xbox Console.[1] It was very limited in supply and only playable for "closed beta testers" such as ADX. CrispyGamer.com gave it the tip top of their top ten list, and said it could be one of the rarest games of the last generation and a collectible for years to come.[2]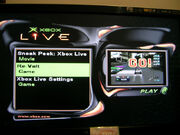 Sadly, Acclaim became defunct and the project was quickly dropped, taking the entire game offline. Not much else is known about the project...
References
See Also
External Links
Ad blocker interference detected!
Wikia is a free-to-use site that makes money from advertising. We have a modified experience for viewers using ad blockers

Wikia is not accessible if you've made further modifications. Remove the custom ad blocker rule(s) and the page will load as expected.