Re-Volt Live (Forum)
Talk

0
343pages on
this wiki
Re-Volt Live
Re-Volt Live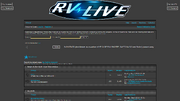 Re-Volt Live
(RVL)
is an English forum created by
zipperrulez
with partnership of
miromiro
on
June 26th, 2009
in order to make the Re-Volt scene more a
live
. The main logo was created by
KayTheFalcon
. A new logo which closely resembles the Re-Volt logo was created by Marv. The forum's logo changes from season to season.
This forum is fairly active, if not the most active English forum at the time. The forum maintains a partership with RVxtg and Re-Volt Frontend . More recently, some of the forum's members created a Facebook group.
Features
A big News section
Support sections
Many subforums for your Re-Volt creations (Cars, tracks, tools, ...)
Car- and track-tutorials
Photo/artwork section
House of Fun and other offtopic rooms where to have fun outside Re-Volt
Online scene (for instance Slug Championships, ...)
Reputation power (for each person)
New-Volt and nVolt's long-development
Technical features
News ticker
New tags (such as extended image [xIMG], youtube, offtopic, spoiler, text styles, etc...)
Option link featuring: Style changer (skins were made by KayTheFalcon (4) , Nero (2) , zipperrulez (1) and Invisionfree guys (1) ), loading screen showing, auto reloading
Changing logos
However, the forum software seems quite overloaded with those features making the site rather slow.
Re-Volt Live Lab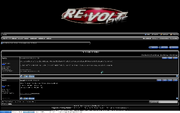 It's the official laboratory for Re-Volt Live administrated by miromiro, zipperrulez, urbanrocker and Kfalcon. previously known as KDL_tests: It's the complete laboratory for testing everything before releasing it to RVL.
Currently being developed in the laboratory:
Slideshow for RVL [done]
new tags (such as scrolling text): [done]
- youtube Auto poster
- scrolling text
- offtopic, spoiler tag
- Speak this sentence tag
Buttons [50%]
Speaking Robot [25%]
Forum skin picker [version 2] [10%]
Additional Option dialog for toggling stuffs [10%]
Reputation counter [version 2] [0%]
Like! [like/dislike a topic] [0%]
Rewards System [0%]
Auto Launch Re-Volt (online and offline) [WIP]

Re-Volt Live : YouTube
Re-Volt Live's YouTube account was founded by zipperrulez. It contains tutorial videos, as well as videos from Re-Volt championships and competitions. As of 1/6/2010 the tutorials are as follows (in no particular order):
Random car racing online
How to install custom cars and tracks
How to forward your router for use with RVHouse
How to run Re-Volt on Vista and Windows 7
Hotkeys & The basics of modeling in Maya
There are more videos about modeling in Maya, courtesy of Aftgambit007 a.k.a. Afty, coming soon.
Other videos include:
Re-Volt Live's NASCAR Cup
zipperrulez's Re-Volt Mod (Real RC Mod) Trailer
Re-Volt Live: Staff
zipperrulez - Administrator
miromiro - Administrator
KayTheFalcon - Administrator
urbanrocker - Super/Global Moderator
krisss - Moderator ("Artwork" Category)
Cat - Moderator ("Parts and Textures Shop" Category)
External Links
Re-Volt Live's AI Nodes Tutorial
See Also