Re-Volt (N64) refers to the version of Re-Volt which was released on the Nintendo 64 game console.
GamePlay
This version features pretty good simulation, and has a few additional track and one extra car. Although the sound effects aren't as good as the PC version, this version features remixed Soundtracks. Clockwork Carnage mode is not available on this version.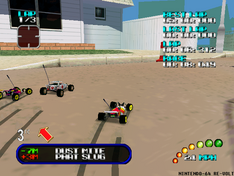 Multiplayer
It is possible to use a Nintendo 64 emulator, such as PJ64K, to play Re-Volt Online with others. Although there are no currently scheduled team races, there is a good possibility some one might start to.
Cheat Codes
Unlike other versions, The Nintendo 64 does not have all the traditional Cheat codes you enter as Player Name. Instead it supports GameShark and a button command cheat.
Button Command
B, A, Z, Z, B, L, A, Up, C Unlock All Cars and Tracks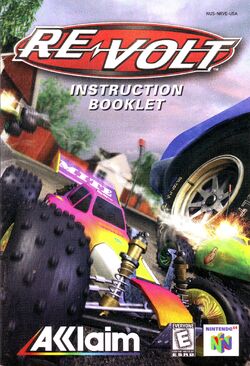 GameShark
Unofficially, the Game Shark can provide the following cheat codes which modify the binary in the game to give the desired effect.
8111CD5A 00?? Number Of Laps In A Race Modifier (01-14)
-------
81115648 0000 P1 Have Weapon Modifier
8111564A 00??
8111564E 0001
-------
81117B10 0000 P2 Have Weapon Modifier
81117B12 00??
81117B16 0001
-------
81119FD8 0000 P3 Have Weapon Modifier
81119FDA 00??
81119FDE 0001
-------
8111C4A0 0000 P4 Have Weapon Modifier
8111C4A2 00??
8111C4A6 0001
--------
Replace ?? with:
00 Green Missile
01 Orange Missile
02 Multi-Orange Missiles
03 The Bomb
06 Oil Slick
07 Bowling Ball Mine
09 Lightning Bolt
0A Orange Star
0B Beach Ball
---------
8111CD5E 00?? # Of Cars Modifier
----------
Replace ?? with:
01 One Car
02 Two Cars
03 Three Cars
04 Four Cars
----------
8111CD7E 00?? Pick-Ups Modifier
----------
Replace ?? with:
00 Off
01 On
Model Conversion
It is possible to rip N64 models in the 1964 emulator via Lemmy's Video Debugger Plugin.[1] This method is very useful when converting from the Nintendo 64 version of Re-Volt[2] to the PC version.
References
See Also
External Links
Ad blocker interference detected!
Wikia is a free-to-use site that makes money from advertising. We have a modified experience for viewers using ad blockers

Wikia is not accessible if you've made further modifications. Remove the custom ad blocker rule(s) and the page will load as expected.