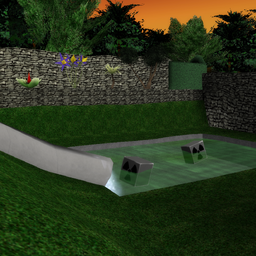 Radioactive Garden is another Extreme track released by Urnemanden December the 20th. The level is 389 meters and the difficulty is assumed moderate.
Description
The original description from the supplied:
After heading towards North for a long time, from the quite odd jungle road, the small group found by late evening a forest path leading them directly to a garden with the most eccentric and exotic plants they've seen. Discovering all the boxes of radioactive fluid gave them a leading clue to where in the world they've come, and now they were trying to get away from the more or less mutated vegetation before the probably even more crazy person behind all this finds them there.
Radioactive Garden was originally created using RV Glue and different kits among other RickyD's Track Kit & JimK's Off-road Kit. But 3-4 months ago, Urnemanden decided to import it into 3ds max. Originally Radioactive Garden wasn't supposed to be released, but as Urnemanden reached a higher level in detail and flow, the more enthusiastic he was to release it.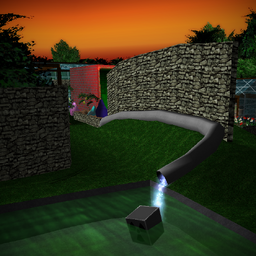 Flow & Racing Line
Following the racing line will lead you through a moderate amount of different kinds of curves, while the delicate-cutted grass will keep your car stable as long as you stay inside the garden. When entering the forest the path becomes bumpy and your car harder to control.
Radioactive Garden's flow is distorted somehow, in cause of the many curves and bends the racer has to complete before getting to finish. The track is decent for all cars, but Urnemanden recommends that the car choosen doesn't drive above 50mph. As the track is approximately 400 meters, the trained racer should be able to take a lap averagely on 33-40 seconds.
Graphics & Environment
As you might guess by it's title, Radioactive Garden is taking place in a huge vegetational area with different kinds of plants and green fluids. Driving through the big greenhouse and outside in the garden will give your eyes experience with exotic flowers, eccentric bushes, cloned plants and a tank of polluted, radioactive water. You will be leaded towards the surrounding forest, where the true bumpyness of the nature takes shape.
Most textures is created or modified by Urnemanden using Paint.NET. But you will notice that some textures is similar to thoose used on Palm Marsh. However, Urnemanden aleready asked Killer Wheels for permission. (Please Notice that Urnemanden is sorry for not mentioning Gaming4JC, as of the pear model and texture used, author has been contacted).
Updates & Bugs
Because of the moderately very short period of time Urnemanden has spent on Radioactive Garden, you might find bugs even though everything should be fine during normal gameplay. If that is the case, please contact Urnemanden through e-mail or PM.
Download
The released version of Radioactive Garden is available at Urnemanden.com & at Re-Volt Track Zones. An update might come later; Urnemanden will inform about that on his website.
Other Releases
Radioactive Garden was also released as 512 compatible during the day after New year 2009. It's HQ Score and other additional information is only available at Urnemanden.com.
Ad blocker interference detected!
Wikia is a free-to-use site that makes money from advertising. We have a modified experience for viewers using ad blockers

Wikia is not accessible if you've made further modifications. Remove the custom ad blocker rule(s) and the page will load as expected.