RVHouse or Re-Volt House is an Open Source multiplayer Game Lobby for Re-Volt. After MSN Gaming Zone shutdown, and GameSpy Arcade became less used and filled with ads, Mr. Arto Jalkanen 'arto' decided to create this program to help new users to play and chat without all the trouble.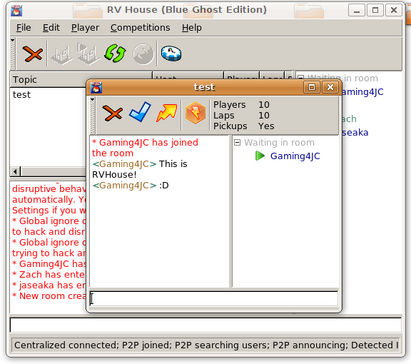 It is now possible to play on versions of Linux, and a tutorial is available at the RVHouse site.[1] RVHouse is popularly used by many in the Re-Volt online community including RVR an online racing team.
New version
Do to the disappearance of speedweek.net, a new version needed to be made with a new domain. It temporarily was working purely in P2P mode. [2] It is now working in centralized mode once again at the new domain below.
References
External Links
See Also
Ad blocker interference detected!
Wikia is a free-to-use site that makes money from advertising. We have a modified experience for viewers using ad blockers

Wikia is not accessible if you've made further modifications. Remove the custom ad blocker rule(s) and the page will load as expected.