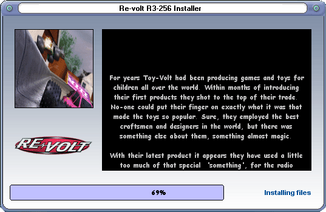 R3-256 is an auto-installer and highly compressed full version of Re-Volt created by RST for the RRR Racing Forum. On May, 6 2009 it was rate 6/6 on NoNags.com where was widely downloaded.
Features
Scrolling Re-Volt background Story while installing
New Full game, now under 12'6 MB!
Auto-Install, no fuss.
Compressed graphics and sound effects
No music to save space (may change)
Supports Windows XP, Vista and soon Windows 7
See Also
External Links
Ad blocker interference detected!
Wikia is a free-to-use site that makes money from advertising. We have a modified experience for viewers using ad blockers

Wikia is not accessible if you've made further modifications. Remove the custom ad blocker rule(s) and the page will load as expected.