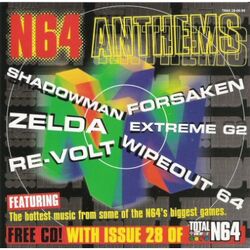 N64 Anthems was a special free CD produced by Rapide Publishing on July 28th, 1999. It came with Issue 28 of the Total N64 Magazine and featured two songs from the Re-Volt (N64) Soundtrack.
Music on the CD
Hyrule (Zelda) (5:16)
Tethra (Extreme G2) (4:12)
Miles Ahead (Wipeout 64) (3:12)
Eschaton (Extreme G2) (4:16)
Chasing Radium (Wipeout 64) (2:31)
Toys For The Boys (Re-volt) (5:17)
Feel @ Home (Wipeout 64) (2:36)
Westvolt (Re-volt).(3:19)
Forsaken Original Mix (Forsaken) (5:16)
Monolith Boy (Wipeout 64) (3:01)
Forsaken Pearl & Korn Remix (Forsaken) (6:57)
Tomorrow Reborn (Wipeout 64) (2:48)
Lumania Supa chilled remix (Extreme G2) (2:46)
Sonic Trip (Wipeout 64) (3:01)
Aquanor (Extreme G2) (3:57)
The Shadowman Main Theme (Shadowman) (1:35)
Total running time: 59:57
External Links
Ad blocker interference detected!
Wikia is a free-to-use site that makes money from advertising. We have a modified experience for viewers using ad blockers

Wikia is not accessible if you've made further modifications. Remove the custom ad blocker rule(s) and the page will load as expected.