Museum 1 is a Stock Track created by Acclaim Studios. Is the last track in the Gold Cup and the tenth track in game. The scenary contains some different features of Museum 2. Although the textures are identical, the track features egyptian artifacts and a special room protected with lasers. Moreover, it's considered the hardest track in game.
Hazards/Obstacles
Unlike Museum 2, Museum 1 exaggerates in closed narrow corners which makes the cars collide constantly, mainly at the first descent road (with egyptian columns at sides) where the player needs to slow down the speed to not crash into. Also, some meters after, the cars are thrown under a corridor wall due the jump beside it. And finally, the last jump through a narrow and risky scaffolding which is a target for droper powerups. These are some examples of the types of hazards under the level. Ashtrays, "Wet Floor" Signs, Tables and Rope Stands are part of the obstacles list. The Dinosaur Skeleton Stand is included, where the cars collide on those coming from the opposite direction, or even on the dinossaur paws. Although the track was rated under the Gold Cup tracks, it's considered the most difficult track in the game, even surpassing Supermarket 1 or any track from Platinum Cup.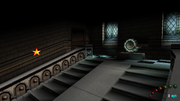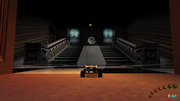 Global Pulse Location
The Global Pulse is after the egyptian room, behind the sign board at the jump edge.
Practice Star Location
The Practice Star is floating at a great height above the stairs, near to the track end. The player needs to drive the car in reversed mode through the room protected with lazers, then make a big jump to pick it up. Some people like to use the URCO cheat code to take the star using Probe UFO, although it is possible to pick it up using Toyeca or any car from the Semi-Pro or Pro Rating.
Tips
Cut Corners as much as possible. Moreover, decreasing curves or trace fast lines in corners is an universal strategy for any kind of racing track.
At the dinossaur stand, go through the right instead the middle.
The same type of maneuver for samples tables: Go through the left for cutting the next corners.
Throw Oil Slick, Clone Pick Ups and Ball Bearings at narrow sections (make sure this will not get in your way on next lap).
Throw Oil Slick and Clone Pick Ups at the corners, such that will launch them into a wall or dead-end road. The egyptian room jump and the scaffolding are two examples.
See Also
Ad blocker interference detected!
Wikia is a free-to-use site that makes money from advertising. We have a modified experience for viewers using ad blockers

Wikia is not accessible if you've made further modifications. Remove the custom ad blocker rule(s) and the page will load as expected.