Level Installer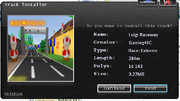 It's one of the newest technologies available at
Re-Volt Live
forum.
It utilizes a new filetype (called RVT (Re-Volt Track file)) which is highly compressed and contains all the information needed for the track to be installed successfully.
Features
- Configure once, extract anytime
- Lightweight file (great compression ratio)
- No direct risk (no executable to open other than the main program)
- Shows polygon count, track length, picture, creator, in addition to the obvious trackname
- Optimized for dual-core processors
Requirements
- Microsoft Framework .NET 3.5
- 100 MB free disk
- 1 GB RAM
- Windows XP SP2 or newer Windows
Creation

RVT Creator is a wizard (automated application) that allows you to create .rvt files quickly.
External links
Ad blocker interference detected!
Wikia is a free-to-use site that makes money from advertising. We have a modified experience for viewers using ad blockers

Wikia is not accessible if you've made further modifications. Remove the custom ad blocker rule(s) and the page will load as expected.