Jigebren is a Re-Volter and programmer who arrived on the scene in December 2009 and has been working on several revolutionary projects. He was promoted to Admin on the wiki May, 24 2013 and will be able to handle emergency situations should they arise and Gaming4JC is unavailable.
Projects
512x512 patcher, to enable larger textures.
Project codenamed "WolfR4" a program to patch the revolt.exe allow up to 12 players online and run tracks similarly to Phoenix R3 and provide Full Custom elements. [1]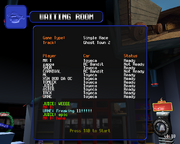 External Links
References
Ad blocker interference detected!
Wikia is a free-to-use site that makes money from advertising. We have a modified experience for viewers using ad blockers

Wikia is not accessible if you've made further modifications. Remove the custom ad blocker rule(s) and the page will load as expected.