hilaire9, alias Pere Ubu. Some say he is 17 years old, others say he is 70. He was born in El Paso, Texas and grew up in Coronado, California. He studied landscape design at Mira Costa College. He now lives in Encinitas, California and has a business named Desert Shore Landscaping.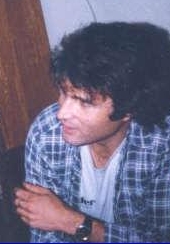 He has created over 170 tracks consisting of 7 pages. These include 88 extremes and 52 others such as classics, frequents, infrequents, full customs, a battle tag, and a frontend. Although not an avid car maker, he has made a 3-pack repaint of Toyeca and 4 originals.[1]
Hilaire9 also is a frequent visitor of RVHouse where he often hosts a Toyeca Race or a Champ.
Pets
He has three pet birds: Sally the white pigeon, Zeus the lilac-crested Amazon parrot and Rocky the cockatiel. He also lives with a white labrador mix named Ranger.[2]
References
External Links
Ad blocker interference detected!
Wikia is a free-to-use site that makes money from advertising. We have a modified experience for viewers using ad blockers

Wikia is not accessible if you've made further modifications. Remove the custom ad blocker rule(s) and the page will load as expected.