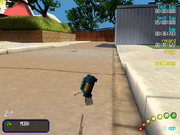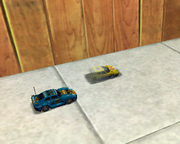 Ghost Car is a record for the best time done by the user and converted into visuals (a blinking car with turquoise halo). this car has its first show on demos but it's not available on Full versions. But today thanks to memory patches such as WolfR4 and Phoenix R3 Even Re-Volt 1.2 it's available once again. For some reasons, Phoenix R3 can't show the halo, while as for WolfR4 and early demo versions, there is no problem at all.
The ghost car was removed from the game because the company Atari have copyrights under the name "ghost cars".[1]
References
Ad blocker interference detected!
Wikia is a free-to-use site that makes money from advertising. We have a modified experience for viewers using ad blockers

Wikia is not accessible if you've made further modifications. Remove the custom ad blocker rule(s) and the page will load as expected.