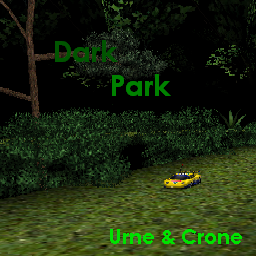 Dark Park was the first track created in a close cooperation between Crone94 and Urnemanden. The 527 meter long track is assumed to be Medium and was released at Re-Volt Zone Tracks March the 3rd.
Description, Flow and Racing Line
Everything is taking place in a surreal world, more exact a park. Nothing special if you don't mind driving around on a road hanging in the middle of nowhere. It's is hard to describe, but it has been mentioned that the tracks special theme and structure is giving a nice effect while racing it.
As Dark Park is a (more or less) modified lego track, it's flow and racing line isn't something new and unseen. The soft corners in the grass area should go smooth even with the surface used, but when entering the Rocky area, different obstacles disguised as stones and huge cliffs.
Graphics and Environment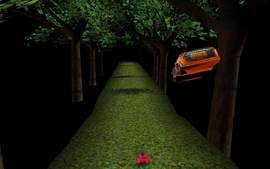 Most textures are either from kits or other tracks, since neither Urnemanden or Crone94 had the skills to do such textures themselves. A Readme was never created, but textures are mainly from RickyD's Track Kit, hilaire9 and Alex Coombes' Return To Goblin Wood as of Urnemanden's mind.
What Crone94 and Urnemanden do stand in for is the map, structure and the idea.
Updates and Bugs
Shortly after the update of Pisa Grandprix and Forgotten City, Crone94 was working on a similar update for Dark Park. Sadly enough this unfinished update was lost during a switch of laptop.
External Links