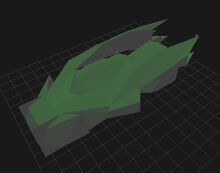 Bike is the name of a folder in Dev version, which contains a converted model of G-Spark: a superbike from the game Extreme-G 2. It accompanies a Zmodeler document that mentions the bike model and a missing BMP file called BIKE.BMP.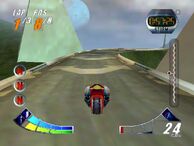 The reasons of why this vehicle is present in Dev version are currently unknown, but both games are related somehow, since Re-Volt and Extreme-G 2 were designed by the same Acclaim Studio: Probe Entertainment.
Appearance
The model doesn't seem to have a proper UV Map, nor an available texture file or Parameters.txt for it. It still have a greenish vertex shading and small objects shaped like cubes in the backwards and inside. Its wheels are attached to the body, since they were not seemed to spin in Extreme-G 2, but to use texture animation instead.
Frontend Easter Eggs
Some easter eggs about Extreme-G 2 are present in Frontend, making it seem that the Developers really wanted to promote the game somehow. Images of Velocity Kendo (the G-Spark pilot) and the XG2 logo can be seen beside the car selection screen.
Drivable Conversions
The community have two fan-made drivable versions of BIKE brought from Dev to the Legacy version, which are the follows:
Gallery
See Also
Ad blocker interference detected!
Wikia is a free-to-use site that makes money from advertising. We have a modified experience for viewers using ad blockers

Wikia is not accessible if you've made further modifications. Remove the custom ad blocker rule(s) and the page will load as expected.