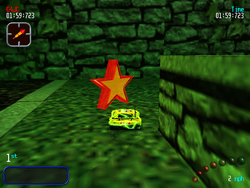 Battle Tag
is a multiplayer playmode in
Re-Volt
. There are four exlusive arenas available for this mode.
Objective
It works like a reverse Tag game. The players must find and pick-up a star that is hidden somewhere in the level. When a player takes the star, his/her timer starts counting down. By coming within proximity of the player with the star, other players can steal the star, thus starting its timer and stopping the opponent's. A player wins when its timer runs out. The time duration can be changed in Re-Volt 1.2, RVGL and WolfR4.
In addition, players can jump with their cars by using the 'Reposition' key, instead of really repositioning the car, as the arenas don't have a set course. The Reposition Trigger makes the car jump as well.
In the moment a star is caught, an electro-green pulse covers the car (similar to the Electro Pulse), emitting a bright green glow. For the other players an arrow appears showing the location of the player who caught the star.
Tips
Avoid contact with others by jumping, drifting, or going into splits and subways.
Jump over high places with difficult access (like boxes and shelves in supermarket).
Tricks
Pressing fast the reposition key two times makes the car to jump higher.
After jumping towards a wall, cars can be rebounded by pressing the reposition key after the impact. Cars can also climb the wall reproducing the same process, but pressing the reposition key only when the impact is going to happen.
Jumps should be avoided in common routes in order to avoid speed decrement.
Cheat other players by pretending you are going to jump, then change the direction. This can be made near to Supermarket shelves or Botanical Garden flower beds.
Stock Battle Tags
Ad blocker interference detected!
Wikia is a free-to-use site that makes money from advertising. We have a modified experience for viewers using ad blockers

Wikia is not accessible if you've made further modifications. Remove the custom ad blocker rule(s) and the page will load as expected.