AI Nodes
Talk

0
346pages on
this wiki
AI Nodes or an Artificial Intelligence node are what the Re-Volt Engine uses to tell the AI cars where to go and what to do on a track. They look like green and red balls on either side of the racing line which are numbered according to distance automatically once they are saved.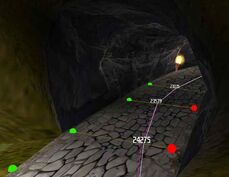 Creating and Editing AI Nodes
To begin type your name as MAKEITGOOD and select the AI Edit mode. Go to any track and you should see Red and Green balls or spheres. To edit one simply press F4 and click on one by pressing Enter.
RRR Racing Forum has a full documentation on AI nodes which would be advisable to look at here: RRR Racing Forum's AI Nodes Tutorial
Re-Volt Live (RVL) has as well a full documentation about AI Nodes which would be located here: Re-Volt Live's AI Nodes Tutorial
See Also
External Links